About PayPal
PayPal allows any business or consumer with an email address to securely, conveniently and cost-effectively send and receive payments online. It is renowned for being safe and fast. You will need a PayPal (or Stripe) account to accept payments generated from the sale of your tickets. Your customers will be able to pay using credit or debit cards.
Setting up a PayPal account
Setting up a PayPal account is simple.  You may have an account already but if not, follow this link to set one up: https://www.paypal.com/uk/mrb/pal=FWWSKATNUBZLL
To accept payment via credit or debit card, please ensure you have either a personal premier or a business account with PayPal.  These are free to set up.
We suggest that you run through PayPal's verification checks, including email verification and bank verification, as this will increase your payment limit.
If you plan on handling large amounts of money, we also recommend that you contact PayPal to explain this and see if they predict any issues.
Adding your PayPal account to the Sell Tickets App
To add your PayPal account account to the Sell Tickets App:
Click 'Box office setup' from the main navigation.
Click on 'Payment Systems'.
Click on the blue button that says 'Connect a PayPal account'.
Enter the email address that you use for your PayPal account when prompted, then tick the two check-boxes and click 'Save payment system'.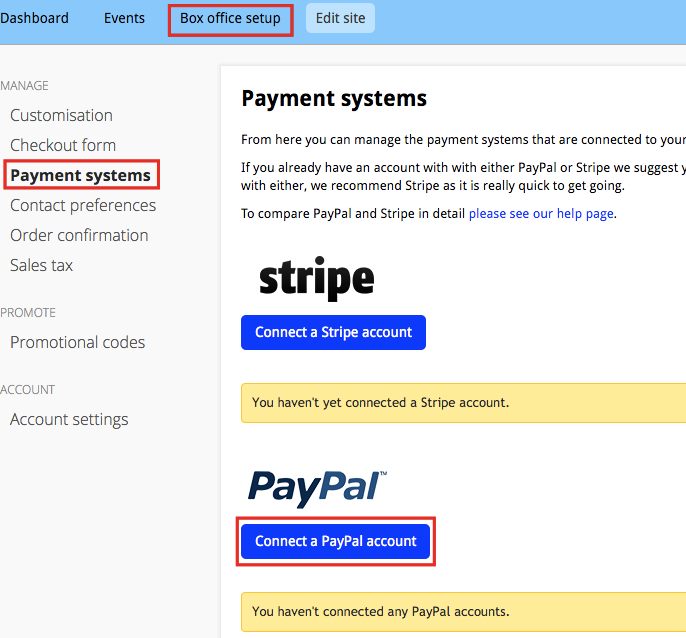 PayPal will now be available as a payment option when you edit any of your events.
You can have as many PayPal accounts on file with us as you like, and you are free to use different accounts for different events if you wish.