About Stripe
Stripe makes it easy to accept payments via credit or debit card online and is perfect for event ticketing. You will need a Stripe (or PayPal) account to accept payments generated from the sale of your tickets. Your customers will be able to use credit or debit cards.
Setting up a Stripe account
Setting up a Stripe account is simple. You may have an account already but if not, follow this link to set one up: https://dashboard.stripe.com/register
Adding your Stripe account to the Sell Tickets App
To add your Stripe account account to the Sell Tickets App:
Click 'Box office setup' from the main navigation.
Click on 'Payment Systems'.
Click on the blue button that says 'Connect a Stripe account'.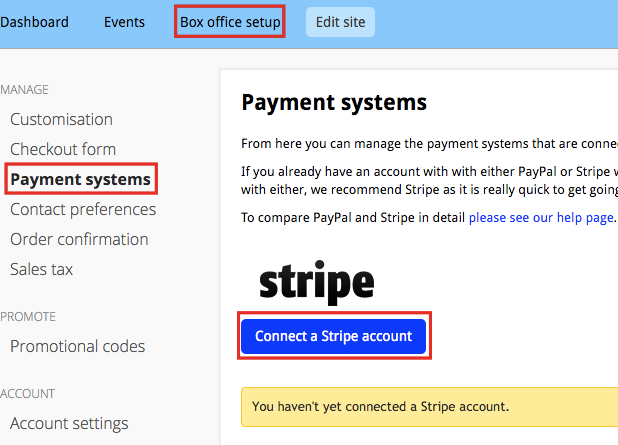 Click on "Sign in" if you already have a Stripe account or complete the form under the initial banner to create a new account.
Stripe will now be available as a payment option when you edit any of your events.